GROWN UP CRANBERRY JELLO
Three 3 oz packages of cranberry flavored JELL-O
1 ½ cups boiling water (not hot water – boiling water)
1 16 oz can of whole berry cranberry sauce
1 20 oz can crushed pineapple (do not drain or use fresh pineapple)
1 cup of port wine (you do not need top quality port)
Topping:
1 8 oz package softened cream cheese
1 8 oz container of sour cream at room temperature
A few drops of milk if needed
In a large bowl, mix together, the JELL-O and boiling water until the Jell-O completely dissolves. Stir in cranberry sauce, pineapple and its juice and port wine. Blend well and pour into a 13 x 9 clear glass serving dish or serving dish of equal volume. Refrigerate until set, about 4 – 6 hours.
In a small mixing bowl, beat together cream cheese and sour cream, adding a few drops of milk if necessary, until mixture is smooth and of spreading consistence. Spread evenly over top of set JELL-O. refrigerate until ready to serve.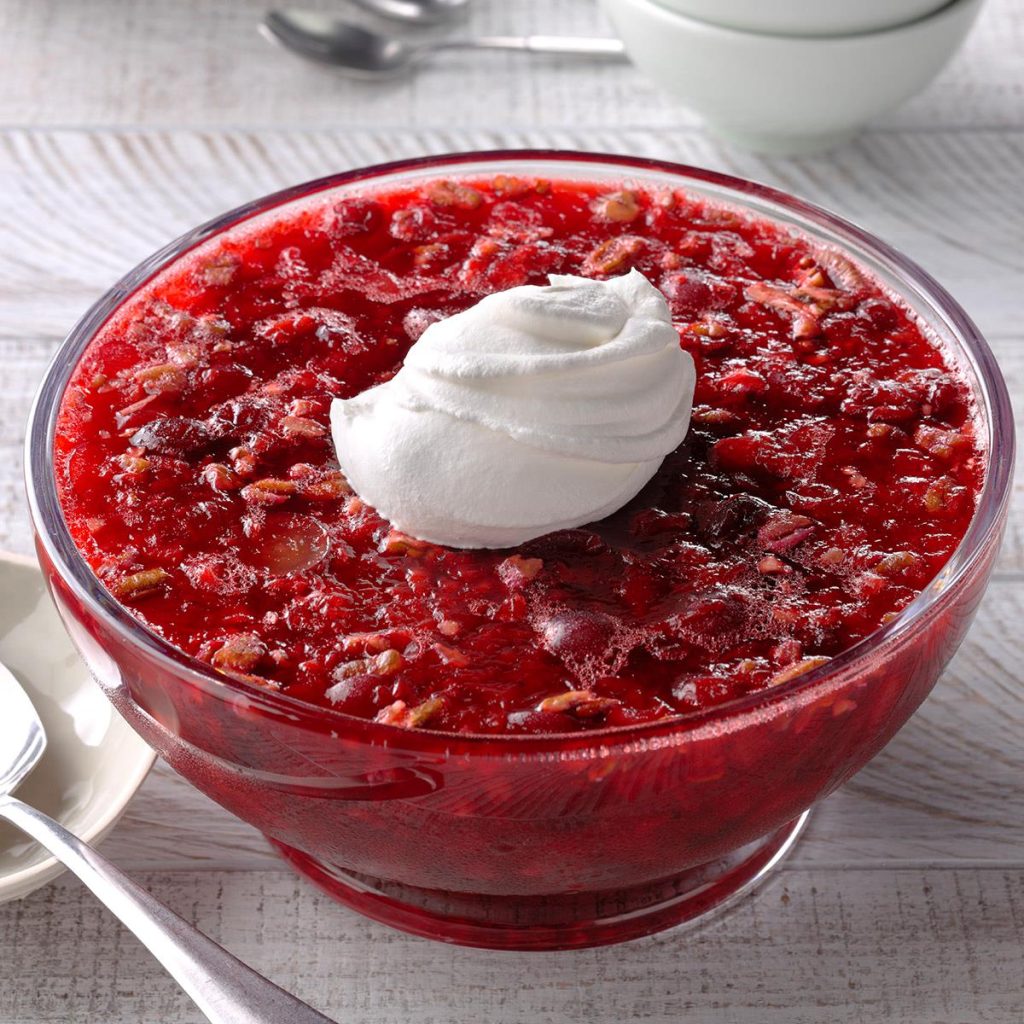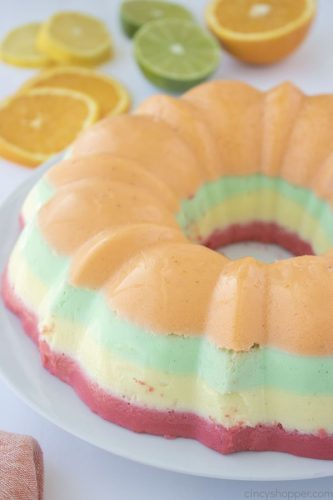 NEAPOLITAN JELL-O
Layer pieces are made in great variety, with all layers of plain JELL-O, or all whipped, or alternate plain and whipped. The most common version with four layers is made as follows:
Dissolve a package of Lemon JELL-O in a pint of boiling water. Pour two-thirds of it into a mold of proper shape. When it has set, whip the rest, pour it on and let it harden. Dissolve a package of Strawberry or Raspberry JELL-O in a pint of boiling water. When the red JELL-O is cold, put two-thirds of it, a spoonful at a time, on the Lemon JELL-O. For the fourth layer, whip the rest of the Strawberry or Raspberry JELL-O and pour it on the hardened plain layer. Each layer must be hard before the others are added. Serve with whipped cream or custard.
JELL-O, America's Most Famous Dessert, 1916
SPICED CRANBERRY ORANGE MOLD
1 ½ cups boiling water (make sure it's boiling!)
1 2 pkgs. (3 oz each) JELL-O Cranberry flavor gelatin
1 can (16 oz) whole berry cranberry sauce
1 cup cold water
1 tablespoon lemon juice
¼ teaspoon ground cinnamon
⅛ teaspoon ground cloves
1 navel orange, peeled, sectioned and chopped
½ cup chopped walnuts
Add boiling water to gelatin, mix in large bowl' stir 2 minutes until completely dissolved. Stir in next five ingredients. Refrigerate 1 ½ hours or until thickened. Stir in oranges and nuts. Spoon into a 6 cup mold sprayed with cooking spray. Refrigerate 4 hours or until firm. Unmold.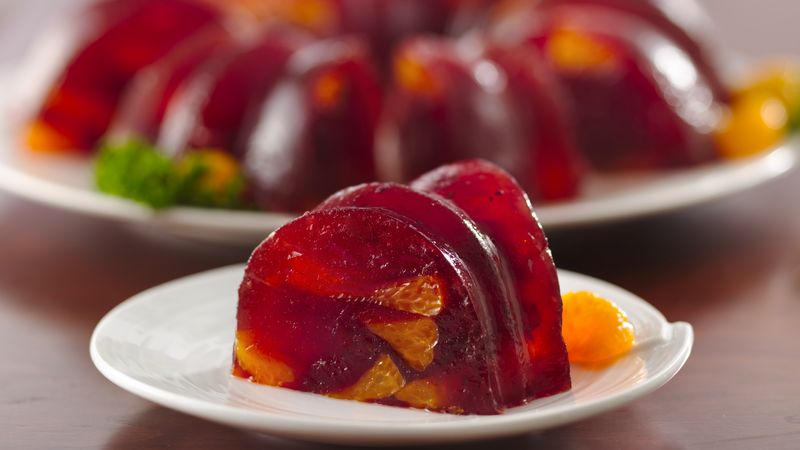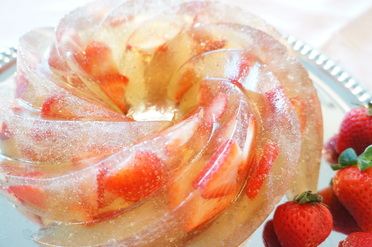 GINGER ALE SALAD
Pour one-half cup of boiling water over one package of Lemon JELL-O. Set in hot water until thoroughly dissolved, stirring all the time. Cool and add 1-1/2 cups ginger ale.
Set in a cold place until it begins to thicken, then stir in 1/4 cup finely cut nutmeats, 1/4 cup finely cut celery, one cup finely cut assorted fruits (pineapple, orange, apple, cherries, or grapes), one tablespoonful finely cut crystallized ginger.
JELL-O Cookbook, 1904
OLIVE RELISH
1 pkg Lime JELL-O
1 pint hot water
3 tbsp. vinegar
¼ tsp. salt
¾ cup sliced stuffed olives
½ cup sliced sweet pickles
¼ cup diced celery, if desired
Dissolve JELL-O in hot water. Add vinegar and salt. Chill. When slightly thickened, add remaining ingredients. Turn into small individual molds. Chill until firm. Unmold. Serve with fish or meat. Makes 12 molds.
Bright Spots For Wartime Meals – 66 Ration-Wise Recipes 1944.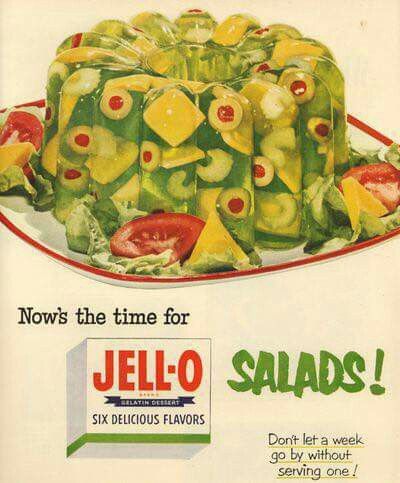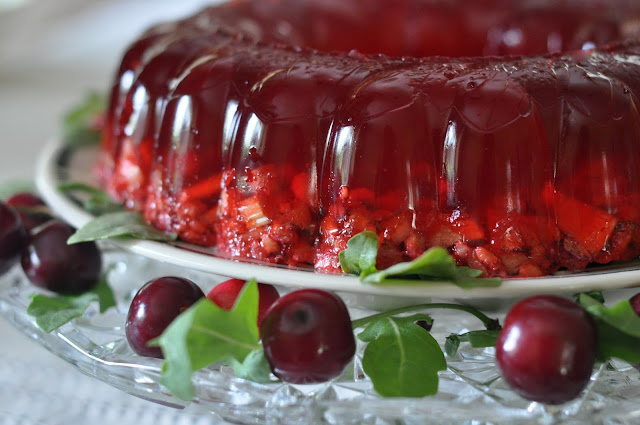 CHERRY WALDORF SALAD
1 package (3 oz.) Jell-O Black Cherry or Cherry Gelatin
Dash of salt1 cup boiling water
½ cup diced apples
½ cup diced banana
¼ cup chopped celery
Dissolve Jell-O Gelatin and salt in boiling water. Add cold water. Chill until very thick. Fold in remaining ingredients. Spoon into a 1-quart mold, 8-inch square pan, or dessert dishes. Chill until firm. Unmold. Makes about 3 cups, or 6 servings.
Joys of Jell-O, 4th Edition
UNDER THE SEA SALAD
1 package (3 oz.) Jell-O Lime or Lemon-Lime Gelatin
¼ tsp. salt
1 cup boiling water
1 tbsp. lemon juice
2 packages (3 oz. each) cream cheese
½ tsp. ginger
1 can (1 lb.) pear halves
Dissolve Jell-O Gelatin and salt in boiling water. Drain pears, measuring ¾ cup syrup; add water, if necessary. Dice pears and set aside. Add pear syrup and lemon juice to gelatin. Measure 1 ½ cups into a one quart mold. Chill until set, but not firm.
Meanwhile, soften the cheese until creamy. Gradually add remaining gelatin, blending until smooth. Add ginger and then chill until very thick. Fold in pears. Spoon into mold. Chill until firm. Unmold on crisp lettuce. Makes about 4 cups, or 8 side salads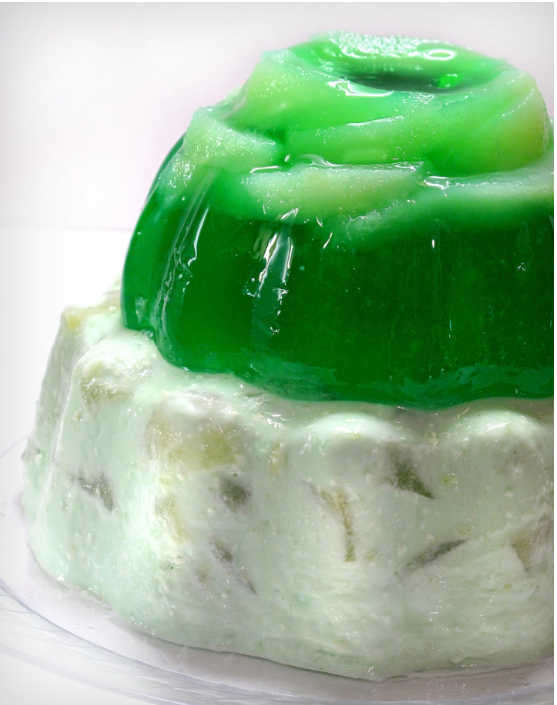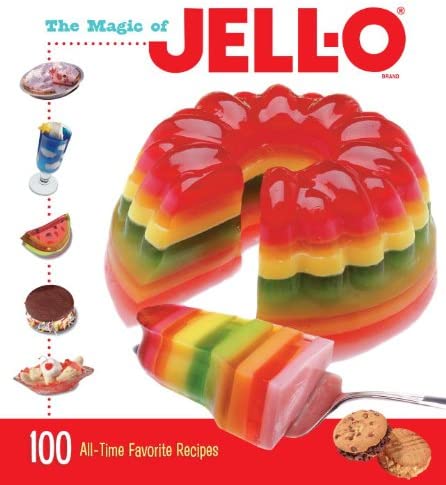 INTERESTED IN MORE JELL-O RECIPES?
We sell vintage JELL-O cookbooks in our gift shop.
Please call 585-768-7433 or stop by the JELL-O Gallery to discover our latest offerings.